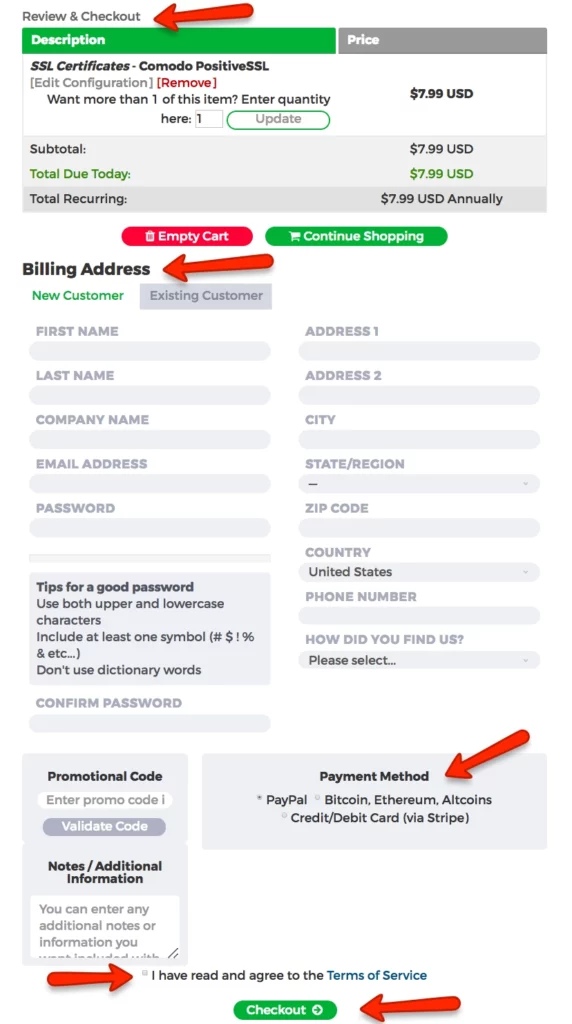 Choose the SSL Certificate, then select the period (1, 2, or 3 years) and number of domains (only for Multi-Domain SSL Certificates), and click "Buy Now";
You'll be redirected to your Shopping Cart, where you need to confirm the period and, for Multi-Domain SSL Certificates, the number of additional domains. Review your Order Summary then click "Continue";
On the Review & Checkout page, you'll find the "New Customer" fillable form which you need to complete to create your SSL Dragon account. Afterward, insert your Promotional Code (if you have it), any Additional Information (if necessary), select the desired Payment Method, confirm that you've read and accepted our Terms of Service, and click on "Checkout";
You'll be redirected to your Invoice which you need to pay using your selected Payment Method. Once the payment is done, you will see your order number and additional details on your Order Confirmation page. You will find your SSL Certificate in "My Account" at "SSL Certificates" -> "My SSL Certificates
Save 10% on SSL Certificates when ordering today!
Fast issuance, strong encryption, 99.99% browser trust, dedicated support, and 25-day money-back guarantee. Coupon code: SAVE10