In this article, we'll show you how to install an SSL Certificate on Juniper. Before installing the certificate, make sure you've received all the necessary SSL files from your CA. If you haven't applied for a digital certificate yet, we provide CSR generation instructions in the first part of this tutorial.
After the installation, continue reading to discover where to buy the best and most affordable SSL Certificate for your Juniper platform.
Table of Contents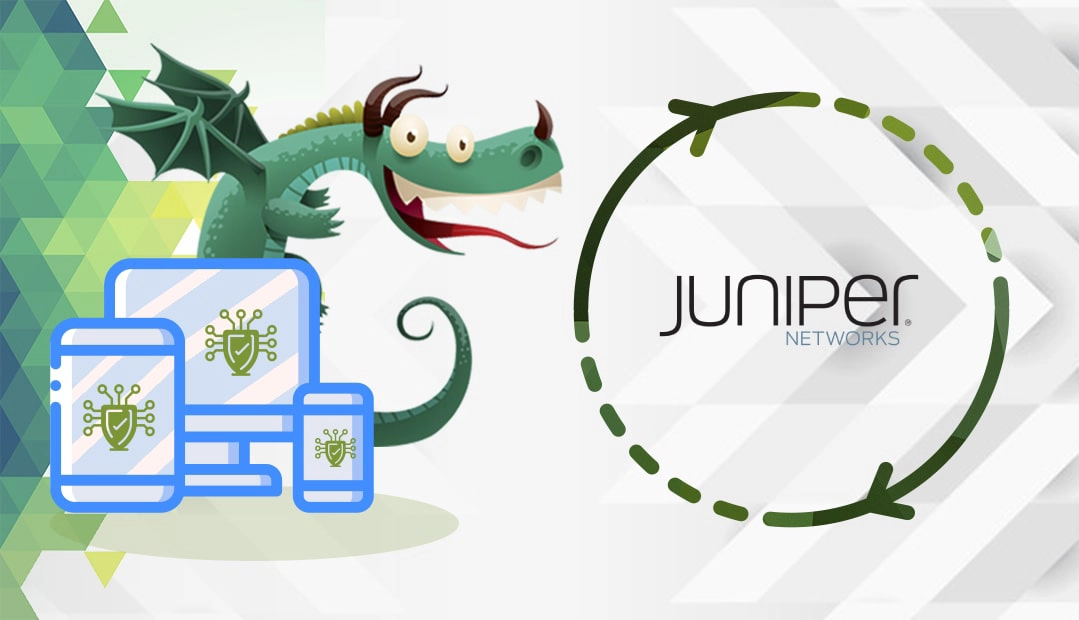 Generate a CSR code on Juniper
To generate your CSR (Certificate Signing Code) on Juniper, please follow the steps below:
You have two options:
Use our CSR Generator to create the CSR automatically.
Follow our step-by-step tutorial on how to generate CSR on Juniper.
Use your CSR Code during your order process with your SSL vendor.
Install an SSL Certificate on Juniper
After you receive the SSL Certificate files from you CA, you can proceed with the SSL installation. Follow the steps below to add your SSL Certificate to Juniper:
Step 1. Prepare your files
Download and extract your SSL Certificate and its Intermediate CA Certificate (a x509/.cer/.crt/.pem format) from the ZIP archive
Copy the contents of your SSL Certificate in a separate text file and saved it with the .cer extension
Perform the same action for your Intermediate certificate. Make sure you save it as a .cer file
Note: Some CAs may provide two intermediate certs, for better compatibility with older browser versions. You need to copy them both in two separate .cer files and upload one at a time.
Step 2. Import your Intermediate certificates to Juniper
In your Admin Console, go to System > Configuration > Certificates > Device Certificates, and Click Intermediate Device CAs
Click the Import CA Certificate button, and browse your intermediate certificate file. Click Import Certificate to upload it.
A message should confirm the successful upload. Click Done
Step 3. Import your SSL Certificate
Return to, System > Configuration > Certificates > Device Certificates, and click on pending CSR
On the Pending Certificate Signing Request page navigate to Step 2. Import Signed Certificate, and browse your primary SSL Certificate file. Click Import
A message should confirm the successful upload. You can find your SSL Certificate in the list of Device Certificates.
Congratulations, now you know how to install an SSL Certificate on Juniper.
Test Your Juniper SSL Installation
We recommend checking your SSL certificate for potential errors right after the configuration. Use these excellent SSL tools to get instant status reports and vulnerability alerts.
Where to buy the best SSL Certificate for Juniper?
IF you're looking for an affordable SSL Certificate, and impeccable customer support there isn't a better place to shop for digital certs, than SSL Dragon. We offer the lowest prices and the widest range of products compatible with dozens of servers and platforms, including Juniper.
No matter your SSL needs and budget, we've got a perfect certificate waiting for you. SSL Dragon takes care of your sensitive data security, so your website or business can thrive online!
To speed up your SSL search, we've developed exclusive tools such as SSL Wizard and Advanced Certificate Filter. Use them to find the ideal certificate for your online project, and compare different products by their specifications.
If you find any inaccuracies, or you have details to add to these SSL installation instructions, please feel free to send us your feedback at [email protected]. Your input would be greatly appreciated! Thank you.